Johnny Torque fucks the cum right out of Drake Tyler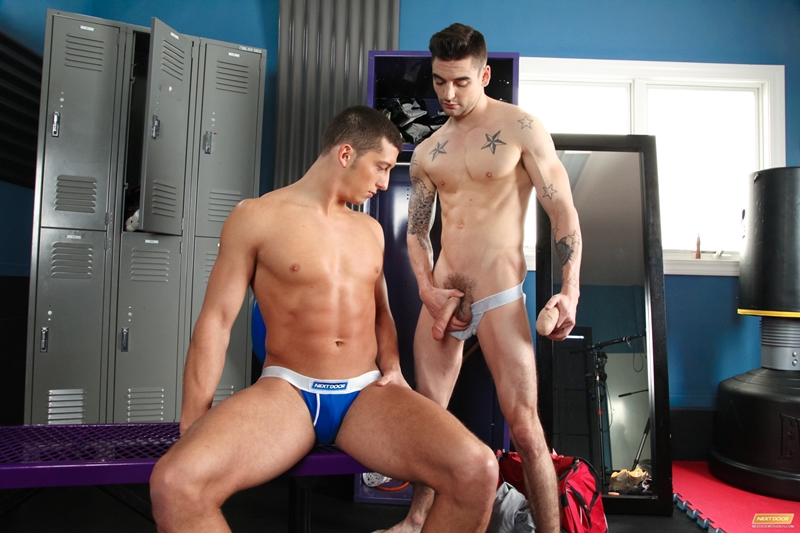 Next Door Buddies says: As Johnny Torque and Drake Tyler get dressed for their workout, everything seems normal. One minute Johnny is talking muscle group strategy and changing into his athletic gear, and the next minute he's discovering a 10 inch dildo in his friend's duffel bag.
Drake is noticeably embarrassed by Johnny's discovery, but embarrassment is the last thing Johnny is thinking about. Suddenly seeing his friend in a new, accommodating light, Johnny orders Drake down to his knees and unfurls his hard cock, letting it fall out of his shorts and into Drake's face, who wastes no time taking it deep down his throat, gagging on it as he slobbers all over the head.
Johnny grabs the back of Drake's head and pulls him closer, fucking his face as Drake takes off his shorts. Johnny bends Drake over an exercise ball and proceeds to fuck Drake from behind, slapping him with the dildo.
Pounding away before moving over to the dressing bench, where Johnny throws both of Drake's legs over his shoulders and proceeds to fuck the cum right out of him, before launching his own load all over his friend's glistening, cum covered body.
Drake admits this beats a dildo any day of the week, which is good news, considering Johnny has vowed a repeat performance whenever Drake gets the urge.